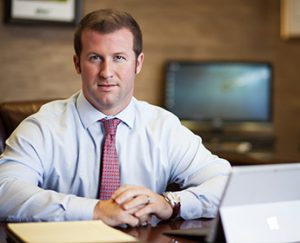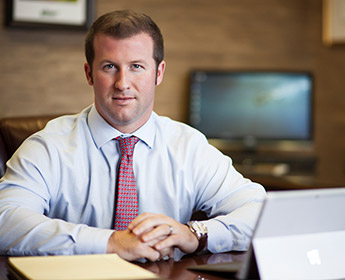 Frank E. "Trey" Simmerman, III graduated as the salutatorian from Notre Dame High School in 2004 and from the College of Wooster, located in Wooster, Ohio, in 2008. Trey obtained his Doctor of Jurisprudence from the West Virginia University College of Law in 2011. Additionally, Trey holds a specialized degree in insurance and risk management, a Masters of Science in Risk Management and Insurance (MS-RMI) degree from Florida State University – which is an area of substantial practice for Trey.
Trey's practice includes many aspects of civil litigation, ranging from complex personal injury matters to expansive oil and gas litigation and, additionally, public sector litigation and insurance litigation. Trey has handled cases from inception to resolution, as both a first and second chair trial lawyer, and tailors his approach to the demands of each case.
To expand, Trey has negotiated and litigated matters involving thousands of acres of mineral rights across the State of West Virginia for West Virginia landowners and for oil and gas exploration and production companies – involving both marcellus shale and other common mineral formations. In this arena, Trey commonly works on, and litigates, matters involving surface use rights/agreements, transportation agreements, pipeline and right of way agreements, and traditional and non-traditional lease agreements, joint venture agreements, lease interpretation and construction, operating agreements, royalty disputes and drilling agreements.
In a given day, Trey may be actively litigating an oil and gas trespass matter or royalty ownership dispute – while at the same time attempting to help an insured individual or business obtain the full benefits of their insurance bargain with an insurance carrier, either through litigation, e.g. a bad faith case, or through negotiation and demands to a carrier that an insurance company honor the benefit if its bargain with an insured/policyholder, be it an individual insurance policy or a business policy. In the insurance arena, Trey also has sufficient experience with reinsurance matters, cyber/technology risk and emerging insurance/risk matters. Trey also has served on various panels and presents on emerging insurance issues, such as cyber risk, artificial intelligence risk and other emerging, non-traditional risks, such as market risk, price risk and operational risk.
Beyond civil litigation, Trey represents various municipalities and public bodies in and throughout North Central West Virginia, and also practices before various other forums including the Public Service Commission and the National Labor Relations Board.
In addition to being admitted to practice before the West Virginia Supreme Court of Appeals, Trey is admitted to practice before the United States District Courts for the Northern and Southern Districts of West Virginia.
While at the College of Wooster, Trey was a three-year letter winner for the Wooster Fighting Scots Football Team. Additionally, Trey was a member of a select group of Wooster student-athletes who volunteered at Every Woman's House (a shelter providing comprehensive services to the victims of domestic violence). In law school, Trey was awarded the CALI award in Constitutional Law and served as a legal research assistant for Westlaw/Thomson Reuters at the College of Law. Further, Trey had the privilege of clerking for the Honorable Irene M. Keeley in the Northern District of West Virginia.