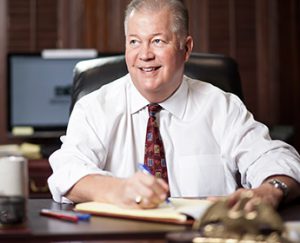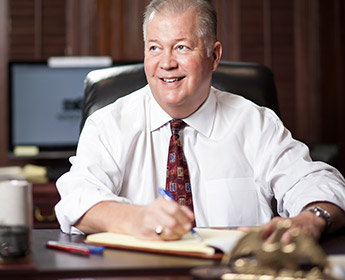 Frank Simmerman's employment history runs from UMWA coal miner in McDowell County, West Virginia, to bank examiner, to attorney. It is that foundation which grounds his advocacy in the "common sense" of real world experience, to which jurors and clients relate.
Mr. Simmerman has over 40 years of experience as a trial lawyer. His diverse background ranges from trying plaintiffs' medical malpractice cases, to serving as co-liaison counsel for all defendants throughout the final three years of pretrial proceedings, and opening and closing what is believed to be one of the longest and largest civil trials in West Virginia—a six-month trial in the Circuit Court of Monongalia County that is cited under In re State Public Bldg., Asbestos Litigation, 454 S.E.2d 413, 193 W. Va. 119 (1994); cert. denied 115 S.Ct. 2614, 515 U. S. 1160, 132 L. Ed. 2d 857.
Mr. Simmerman has tried over 100 jury and non-jury cases in state and federal courts—representing both plaintiffs and defendants. He has also appeared before the West Virginia Supreme Court of Appeals and the Fourth Circuit Court of Appeals on multiple occasions. Three of Mr. Simmerman's cases have advanced to the level of the United States Supreme Court, which illustrates the breadth of his practice.
Mr. Simmerman was selected for the initial class of West Virginia's Super Lawyers. He is also AV® Peer Review RatedSM by Martindale-Hubbell®.
Although not his largest settlement, Mr. Simmerman's largest public settlement is the recovery of $2,250,000 on behalf of the family of a woman who died as a result of a failure to timely diagnose and treat a horrible infectious process. It is worth noting that this case had been reviewed and rejected by other lawyers.
Successful prosecution required attention to detail and thorough, careful analysis. Similar recoveries have been obtained in several matters where other attorneys have failed to carefully and fully evaluate the facts at hand.
Mr. Simmerman has also frequently served as local counsel for national firms in the areas of toxic torts, industrial accidents and Hatch-Waxman Act litigation.
He has further obtained million-dollar settlements in areas of medical malpractice and nursing home abuse, product defect and automobile injuries.
Mr. Simmerman has obtained defense verdicts in toxic tort matters; complex construction and engineering matters and both prosecuted and defended insurance companies in the insurance bad faith arena.
Some of Mr. Simmerman's reported cases include:
State v. Riley, 169 W.Va. 354, 287 S.E.2d 502 (1982)
Mullen v. McWilliams, 850 F.2d 689 (4th Cir. 1988)
Mullen v. Skinner, 474 U.S. 980, 106 S.Ct. 383 (1985), cert. denied
Helmick v. Potomic Edison Co., et al., 185 W.Va. 269, 406 S.E.2d 700 (1991)
Potomic Edison Co. v. Helmick, 502 U.S. 908, 112 S. Ct. 301 (1991), cert. denied
In Re: State of West Virginia Public Building Asbestos Litigation, 193 W.Va. 119, 454 S.E.2d 413 (1994)
W.R. Grace & Co. v. West Virginia, 515 U.S. 1160, 115 S. Ct. 2614 (1995), cert. denied
Kessel v. Monongalia County Gen. Hosp. Co., 215 W.Va. 609, 600 S.E.2d 321 (2004)
Kessel v. Monongalia County Gen. Hosp. Co., 220 W.Va. 602, 648 S.E.2d 366 (2007)
In the Court of Claims of the State of West Virginia, American Vending Company, Inc. v. West Virginia University, (CC-04-963) (opinion issued June 30, 2007)
Serian v. Penguin Group (USA), Inc., U.S. Dist. LEXIS 63677 (4th Cir. 2009) (unpublished)
Brown v. Genesis Healthcare Corp., 228 W.Va. 646 (2011)
Brown v. Genesis Healthcare Corp., 229 W.Va. 382 (2012)
State ex rel. Perdue v. Nationwide Life Ins. Co., 236 W.Va. 1 (2015)
Ryan v. Benedum Airport, 2016 W.Va. LEXIS 121 (W.V.S.C. 2016)
City of Morgantown v. Nuzum Trucking Co., 237 W.Va. 226 (2016)
Dan Ryan Builders, Inc. v. Crystal Ridge Dev., Inc., 239 W.Va. 549 (2017)

He was a member of the Executive Committee, Young Lawyers Division in 1983-1985; was chairman of the Standing Committee on Law Schools and Admission to Practice in 1988-1989; was a member (Board of Governors) of the Defense Trial Counsel of West Virginia in 1984-1986; and is a member of the West Virginia Trial Lawyers Association. He is also a trained mediator, having fully completed the West Virginia mediator training.